Christmas can be a very exciting period for internet retailers. Online sales are growing and for some businesses the festive season can make or break their entire financial year.
Even if you don't sell Christmas trees online, we have 10 tips for your PPC strategy to take advantage of the end-of-year shopping madness.
1. Consider your industry
I understand that this is literally the opposite to what I said in the introduction, but sometimes the best PPC tip for Christmas can be to not use PPC during the festive season.
If you sell gardening equipment or backyard grills, you might be better off reducing your bids or even pausing some of your campaigns. Watch your data closely – if the ROI is not there, you should probably hibernate until the spring.
2. Tailor it
Tailor your ad copy, landing pages and offers specifically for Christmas. Any kind of sale helps to incentivise customers to act now and Christmas is a perfect opportunity to promote it, especially when most shoppers are on a mission to spend money.
3. Monitor the budget
You can expect an increase in searches and clicks over Christmas, so spend normally increases as well. Make sure you have enough budget so your ads do not suddenly go offline.
Additionally, split out your best-selling products and keywords into separate campaigns with separate budgets. This will help you to keep an eye on the most important money-making elements of your account and ensure everything goes smoothly throughout the festive season.
4. Connect merchant centre to shop
Bidding on products that have sold out can waste a lot of money. If you use one of the three supported ecommerce platforms (Magento, BigCommerce or PrestaShop) you can take advantage of up-to-date product info. Additionally, you won't have to constantly resubmit the feed to reflect changes to your product inventory.
You can give your potential customers a number to call with Call Extensions, show them your prices with Price Extensions and even show them the location of the nearest store with your stock, with Affiliate Location Extension.
5. Try different platforms
Millennials' spending habits are now more influenced by video than any other generation. So, if you sell any products aimed at Generation Y, you need to make sure you show up in the places where they spend their time.
For instance, Google seems to be investing a lot in testing different ways to monetise its video hosting platform. Shopping ads on YouTube are fairly new and in conjunction with sidebar ads and overlay ads, it has also been spotted testing ads under videos: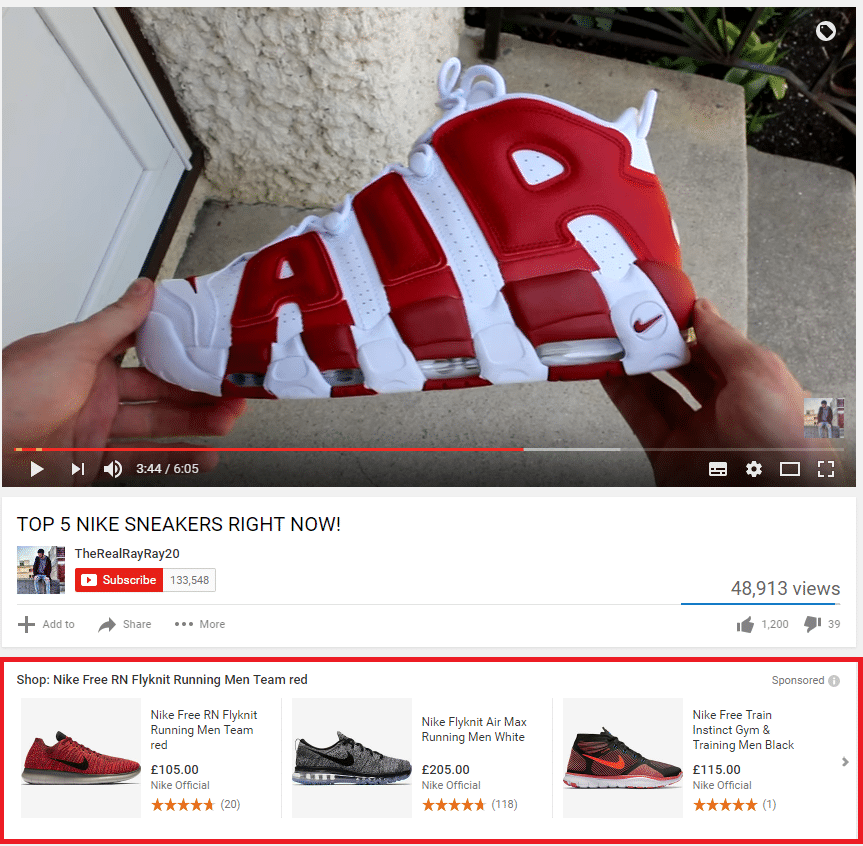 Now is the perfect time to test how well these types of ads could perform for your business – with more traffic to snag, you should be trying to make the most of every possible channel.
6. Adjust your bids for different devices
Different devices often have very different conversion rates. However, up until recently, Google had Tablet and Desktop bid adjustments bundled together. This meant that even if tablet conversion rates were low, you were forced to bundle their bids with desktop bids. It did not make sense, it was unprofitable and, thankfully, Google fixed its mistake.
Now, though, you can separately adjust bids on all your different devices – if you check your data regularly and adjust your bids accordingly, your Christmas campaigns could well be a lot more profitable this year.
7. Use as many available extensions as you can
A simple way to gain an advantage is to use all the extensions available to you, especially to promote your special Christmas offers.
You can give your potential customers a number to call with Call Extensions, show them your prices with Price Extensions and even show them the location of the nearest store with your stock with Affiliate Location Extension.
Affiliate Location Extension is a new addition from Google which allows the searcher to see which major retailer that has your products in stock is closest to them.
If you don't stock your products with major retailers, test Sitelink extensions to promote your available delivery options.
8. Target previous visitors
One of the common PPC tips is to target Christmas keywords, like "Christmas gifts" – while they give you a much broader reach, they can be very expensive.
Instead of targeting everyone, try creating a campaign which would target broad, Christmas-related keywords, but apply an audience of your previous website visitors. If you have a very tight budget, you could go even narrower and only target your previous buyers.
9. Use countdowns in your ads
Urgency is one of the most powerful motivators to get customers to act now. Use this Sale Countdown script to let potential customers know when:
The sale ends
The option to use express/first class/second class delivery ends
Countdowns can make a huge difference when it comes to making a sale, so they're certainly worth using wherever you can.
10. Don't forget Bing
Finally, you should remember to use the tips above on your Bing account too. If you don't have a Bing account yet, create one. Sometimes seen as the black sheep of the search engine market, in the UK it now accounts for nearly 20% of the search the market share – still small, but that is precisely why most companies ignore it. The smaller the competition, the cheaper it will be for you to generate those extra sales and have the most profitable Christmas ever.
What are your PPC plans this Christmas? Will you be using any of our tips? Let us know @RocketMill!