Date posted
17 Nov 2023
Read Time
Introduction to DOOH
Once restricted to a tourist attraction in Leicester square, digital billboards have become a mainstay of the British high street, growing steadily over the past five years despite the pandemic. In fact, Digital Out of Home (DOOH) advertising now accounts for 67% of the total UK Out of Home market – and global investment in DOOH is forecast to grow by 26% through 2023, reaching $13.3 billion, with a further 57% growth anticipated over the next five years. 
A sub-section of DOOH inventory, Programmatic DOOH (PrDOOH) applies the principles of programmatic media buying, typically associated with display banner activity, to digital screens and billboards throughout the country. PrDOOH is democratising Out of Home inventory for all advertisers, effectively removing minimum investment requirements and allowing for sophisticated activation strategies on any budget. Interest in PrDOOH is surging, with estimates that almost a third of UK advertising campaigns have included PrDOOH activations in the last twelve months.
Fortunately you don't need to be a data scientist to unpick the current trajectory of DOOH as a media channel, but what are the key advantages that have underpinned this explosive growth?
Impactful creative
One obvious but important advantage of digital displays vs. print media is the ability to use animation to create eye-catching and impactful visuals. In a world where prospective customers digest hundreds of advertising impacts every day, this becomes a useful tool in driving cut-through and attention.
Efficiency and optimisation
A key advantage of all programmatic media is the ability to concentrate your media spend around the moments that really matter. Where you may plan traditional OOH on a timescale spanning weeks, PrDOOH offers the ability to be significantly more granular in your planning and campaign execution. 
Only looking to reach rail commuters on their way home from work on weekdays? No problem. Trying to reach users in shopping centres over the weekend? Easy. Are you seeing a sharp increase in demand from certain cities halfway through your campaign period? We can shift budgets on the fly based on performance trends.
The ability to control delivery down to a single screen at any time of day opens up a huge range of possibilities to intelligently design flexible campaigns to your specific requirements, in a way that block-booking traditional OOH media cannot.
Targetability
The breadth and depth of targetability for DOOH campaigns has improved massively over the last two years. Platforms like Captify, have unlocked the ability to index screen locations based on real-time search demand. Compared to traditional OOH targeting, which is typically based around fixed Socio-Demographic designations, this allows you to target hotspots of localised real-time demand. For example, it is now possible to index nationwide screen locations based on search demand for 2024 luxury holidays, vs. a blanket strategy covering a handful of affluent neighbourhoods.
Looking to target specific audience personas? No problem. Platforms like Adsquare use mobile location data to build detailed audience profiles based on the patterns of daily life, understanding where people work, shop and spend their leisure time. These profiles can be overlaid on your DOOH campaigns, serving ads in locations in close proximity to members of your target audience.
Measurement 
Programmatic technology allows for a level of measurability that 20th century marketers could only dream of. By geo-gating locations where your ads have served, and harvesting mobile device IDs of users you know were exposed to your ads, you can easily conduct footfall studies to physical locations. Looking to prove that exposure to DOOH ads leads to an increase in traffic to your retail locations? No problem.
Connecting offline and online consumer journeys
The ability to track users that have come into contact with your ads also allows you to connect offline and online journeys. By retargeting exposed users from your DOOH campaigns, you can encourage users to visit your site and learn more about your brand. There is also the possibility to tailor creative to continue your brand narrative cross-device with sequential messaging. Through the use of hashtags, QR codes and increasingly, Augmented Reality, advertisers can create immersive cross-channel experiences.
The future of PrDOOH
With the growth in scale, we are seeing more premium DOOH sites become available programmatically, with DAX Global's TFL Escalator Screen format being a good recent example.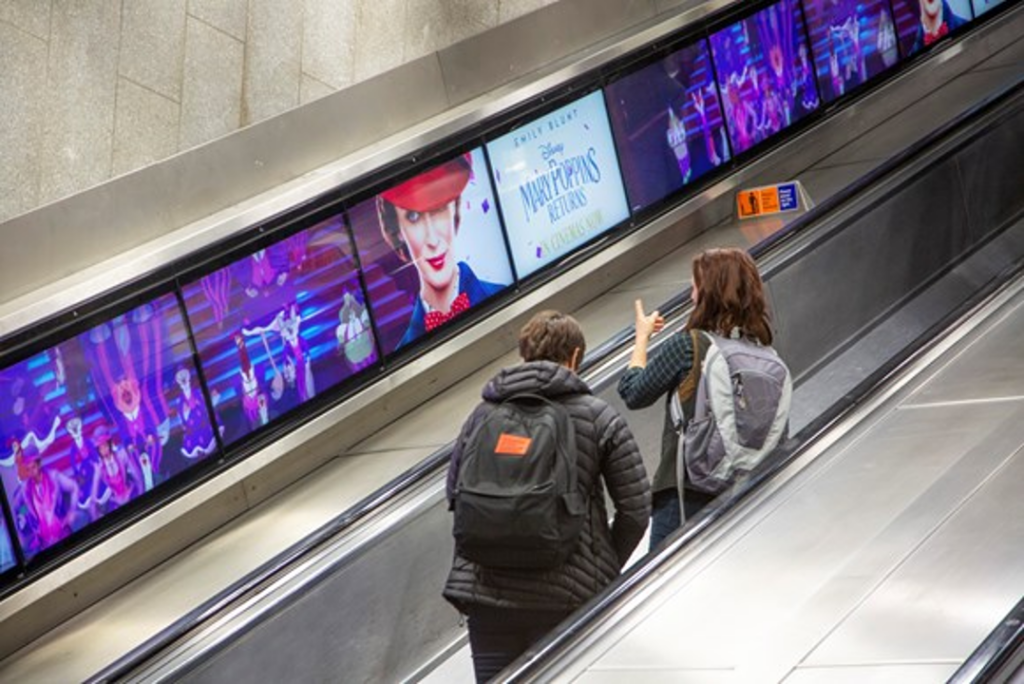 Digital OOH is increasingly looking to innovate in a more experiential direction, leveraging AI technology to put further distance between it and the traditional analogue billboard. GMC ran a campaign this year using AI-powered facial tracking to serve personalised ads to users in close proximity to screens, while South Korean DOOH networks utilise facial recognition to serve individuals with brands that they have previously visited in-store. While privacy laws in the UK will guide the extent of these technological advances, the pace of innovation is exciting for advertisers.
With ever decreasing barriers to entry there has never been a better time to test DOOH as part of your media mix. Get in touch with our team if you need suppport incorporating it into your media strategy.