Local inventory ads (LIAs) were launched in 2014, with the aim of helping retailers drive more traffic into their physical stores after a decline in how much Google was able to charge for clicks. This was because advertisers steered away from mobile-friendly ads, sceptical of spending money on mobile advertising when a user was more likely to enter a store to purchase.
With the launch of LIAs came the ability to target ads based on location and product availability. This means that when a user searches for an item, the retailer's ad pops up with a product to march the search query, along with stock information and where the nearest store is.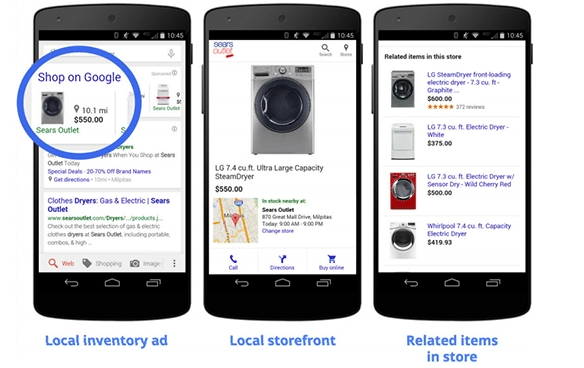 Source: Google
The result?
According to Sears Outlet, which trialled the ads (Google wrote a case study about the test), it was a positive outcome. The team recorded some of the following results:
Boosted store visit rate by 122%
Increased CTR by 16%
Higher return on ad spend (ROAS) than other offline marketing
These are pretty impressive outcomes for retailers which predominantly rely on instore sales, and local inventory ads are definitely a strong alternative for businesses which know a mobile strategy may not be the most efficient investment (both financially and time-wise).
So what's new?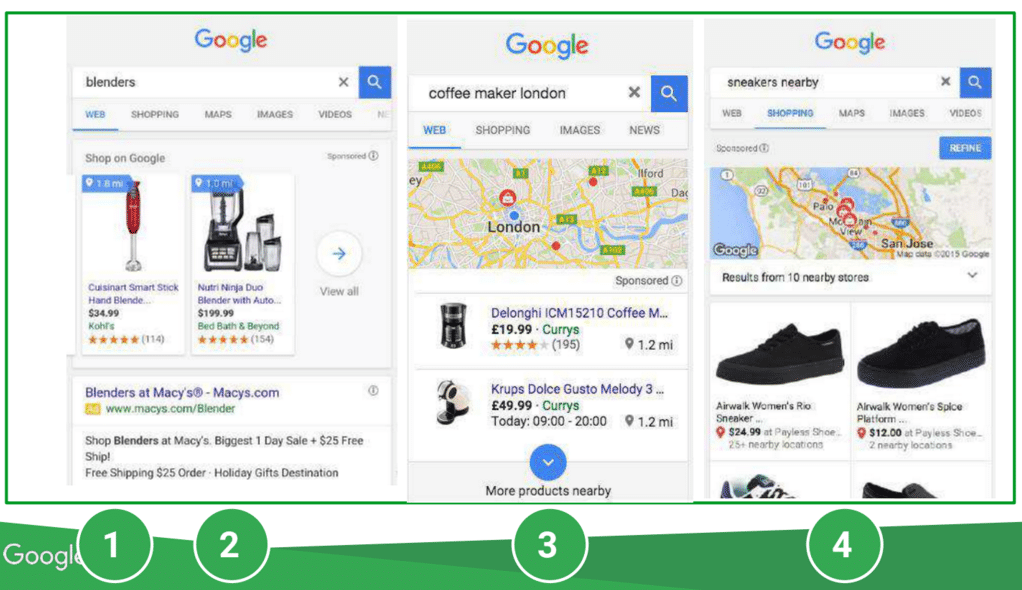 Source: Google
This quarter, Google has launched its new local inventory ads formats, which are currently live in the UK, Germany, France, US, Australia and Japan. The updates include the following formats, illustrated in the image above:
Top banners on mobile
LIA slot at the end of the shopping carousel
Local intent queries format – this is only available in English at present
Local filter on the Shopping property
The updates take into account some of the more current search trends, and Google states that local inventory ads are prioritised in the auction for two and three. This gives the retailers, which know customers are more likely to purchase in a physical store, a better chance of standing out in the landscape. Driving users to a physical store still remains one of the main-value propositions from the new formats. Although these may seem like relatively small changes, the impact of the new formats should give those retailers much wider exposure and, essentially, the chance to compete more effectively to achieve greater results.
Are your customers are more likely to purchase in-store? Are you using LIAs? Let us know your thoughts on the new local inventory ads formats via Twitter by getting in touch with @rocketmill.