Challenge
Since 2000, USN has become one of the fastest growing sports nutrition brands in the world, delivering world-class nutritional supplements for optimised health and sport performance.
By using the highest-quality raw ingredients, they have become a top choice for a wide range of professional athletes and fitness enthusiasts alike, but their branding has historically catered to the niche bodybuilding audience.
Our brief was two-fold. Firstly we were tasked to re-position the USN brand within the market as an accessible, top level performance supplement suitable for all athletes, without alienating USN's core bodybuilding audience.
Secondly, there was the challenge of producing over two-hundred and thirty pieces of advertising collateral to establish our new positioning across a host of different media channels and audiences.
Insight
Athletic performance is about more than just physical training. Mental strength and nutrition are also fundamental to the process. Our research determined that for USN to become the partner of choice for athletes, they needed to show an understanding of the importance of this 'holy trinity' to performance.
We also incorporated the insight that reaching a fitness goal doesn't happen overnight, so our campaign celebrated the blood, sweat and tears of the journey as much as the rewards.
To make the campaign effective, we needed to produce a large number of assets that spoke to each of our different target audiences.
Fitness and athletic performance aren't just about competing or the finished product. The journey there is equally important along with the accompanying blood, sweat and tears.
Strategy
Our strategic leap came out of the insight that 'you get out what you put in' – both metaphorically and literally. It's a truth that doesn't just apply to elite athletes but anyone who has a fitness goal.
We expressed this through the line 'Greatness Inside', which has the duality of referring to nutrition, and physical and mental effort.
To reach our fitness goals, we have to look to strengthen inside and out. Only USN provides the right nutrition for all of us to fuel body and mind and realise our full potential.
Execution
To remain true to our strategy that 'Greatness Inside' is achievable for everyone, we had to produce assets for a very broad but still highly targeted exercising demographic.
To do this we created a large number of executions with nuanced visual and copy changes. Producing all of this collateral manually was out of the question with the budget available and the tight timeline.
Our solution was to create a database of alternative headlines/visuals/copy in the form of spreadsheets that we fed into Adobe After Effects and InDesign to create the final artwork.
It enabled us to mass produce a large amount of assets at pace and scale, of a very high quality that fitted seamlessly into the more bespoke, longer video and OOH executions.
By automating the process of creating social media, we managed to modulate our messaging to a much wider and more targeted group of audiences.
Creative
Using a diverse selection of USN athletes we made a 30 second video ad that encapsulates the "Greatness Inside" Ethos.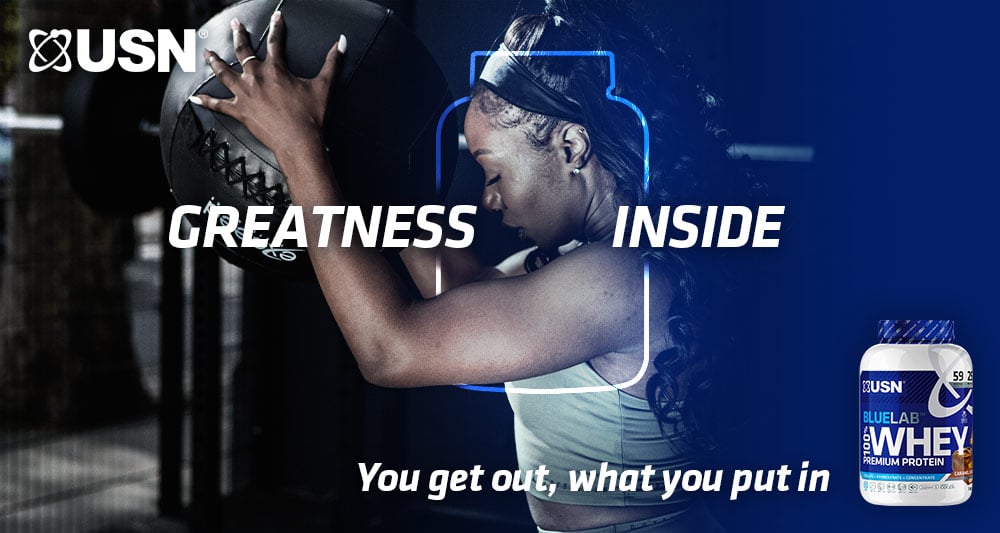 48 Sheet digital display – We used the outline of the USN tub to frame the athletes to highlight the greatness within ourselves as well as the product.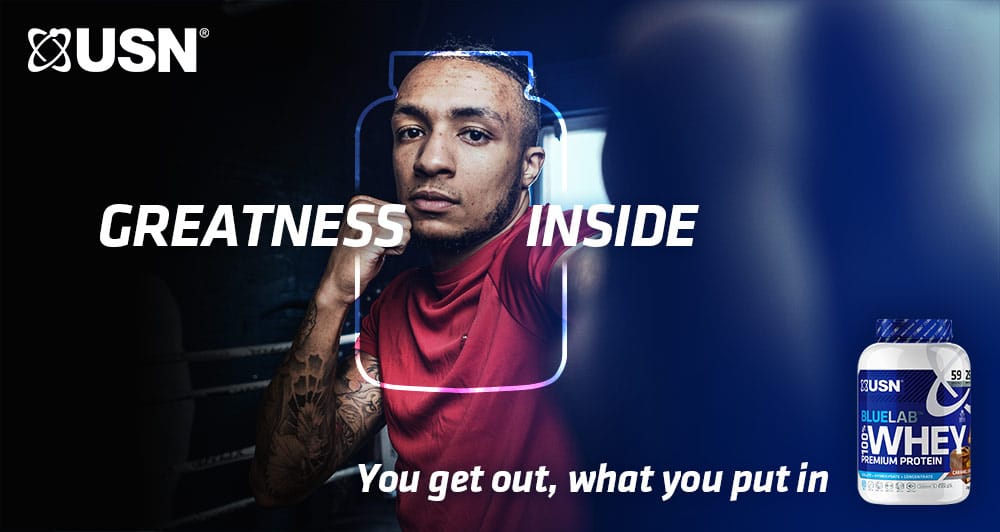 48 Sheet digital display – used in Manchester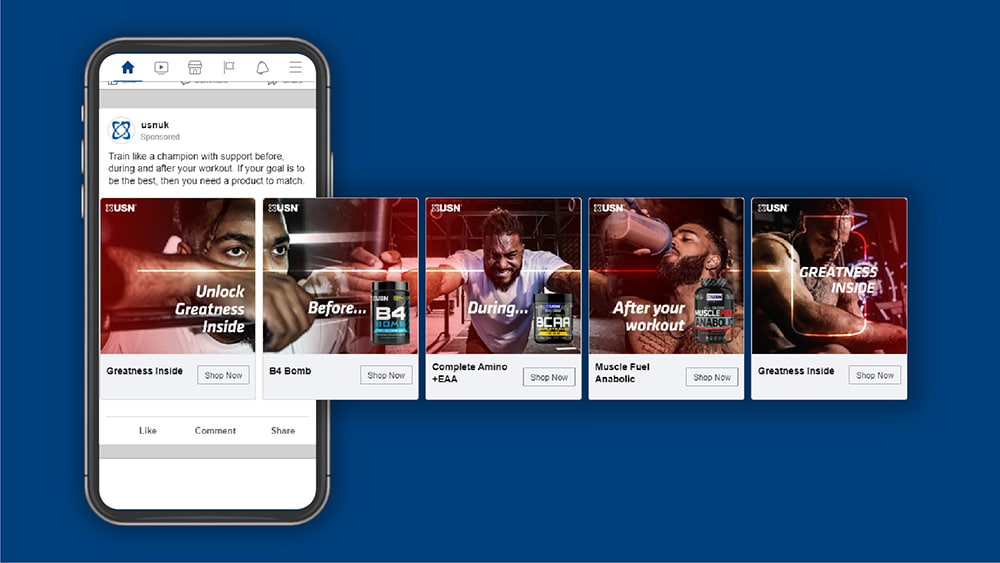 Using stills from the video shoot we were able to make engaging narratives through carousels.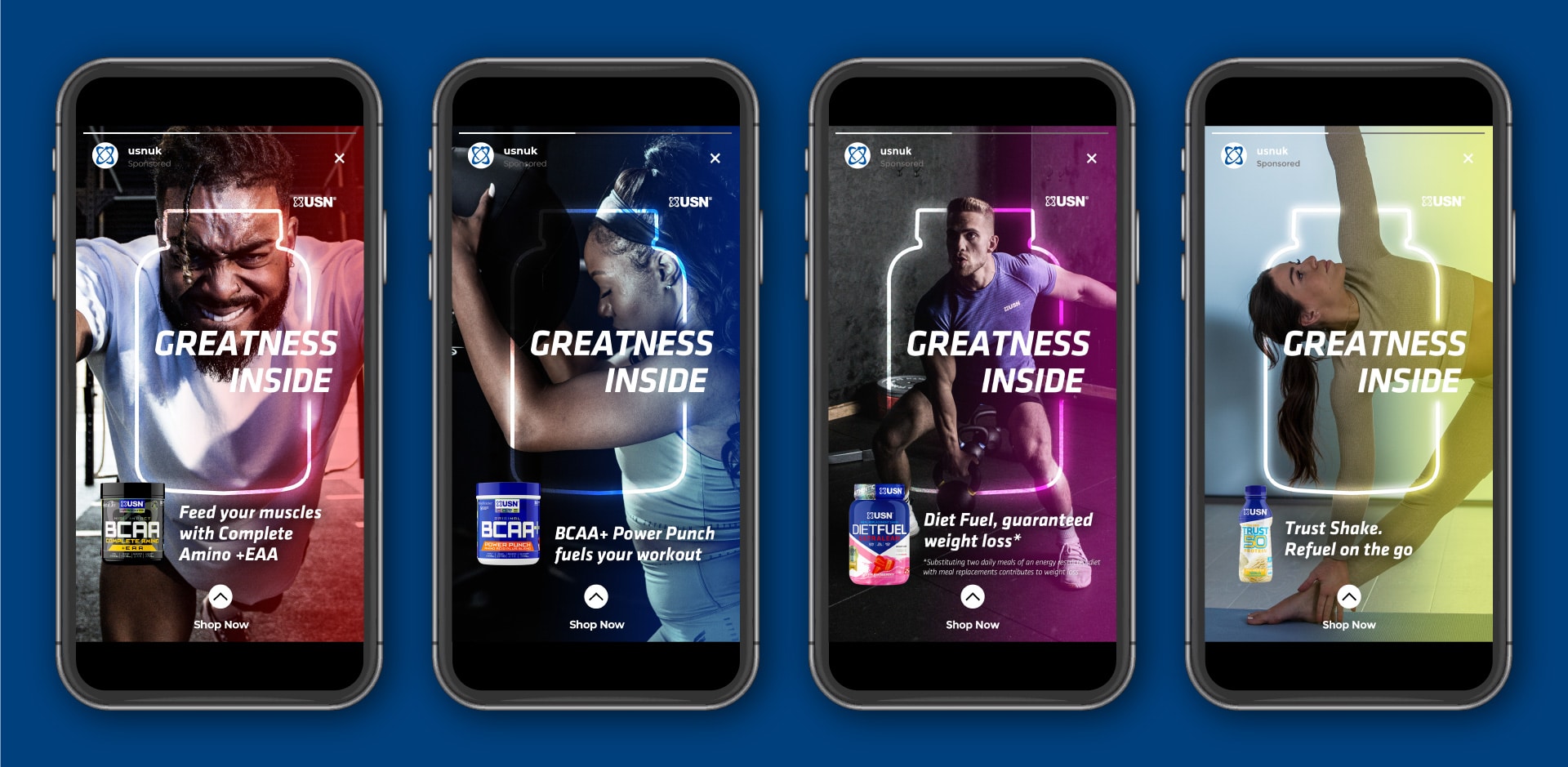 By shooting with a variety of athletes we were able to target different audiences
Results
With challenging deadlines and a tight production budget, an agile approach to the project was essential.
Working with one of our regular TV production partners Be The Fox, we delivered high quality, cost-effective flexible campaign assets that we could then deploy very quickly, followed up with multiple assets created in-house.
The result was a campaign that went from pre-production to delivery in a little over six weeks and included video for YouTube and Facebook, Digital OOH, Carousels and static ads for social media as well as an in-gym experiential asset.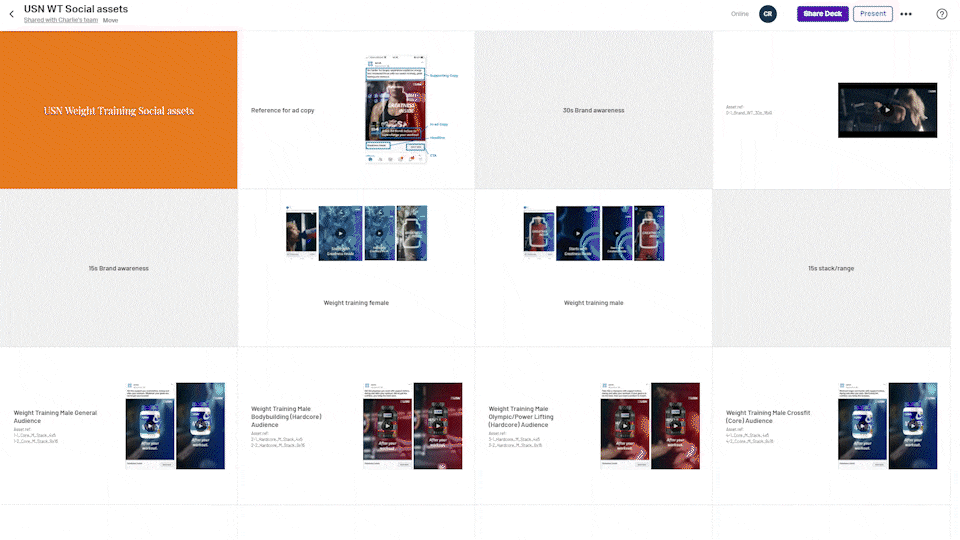 The deck previewing the social assets.