Challenge
Since 1991, The Big Issue has been fighting poverty and inequality, giving some of the most vulnerable people in our communities employment opportunities through self help, social trading and business solutions. Big Issue vendors in their familiar red jackets, have become a familiar, friendly feature of our high streets. However, since the first national lockdown in 2020, they were denied their ability to earn and for the first time in the magazine's history, had to rely on public donations. Our challenge as the UK economy prepared for reopening, was to raise awareness of the Big Issue and spread the good news that very soon,  its vendors would be back on the streets and back in business. 
Insight
Big Issue vendors are self-employed. They buy the magazine for £1.50, sell it for £3.00 and keep the profit. Each vendor is a legitimate high street business, as familiar to their communities as any other business on the high street.
Strategy
Our strategy was to harness the optimism surrounding the reopening of the UK economy, reminding people that while retail and hospitality were once again open for business, Big Issue vendors were too. With limited time and a limited budget, we needed a creative solution that would generate earned media value from people sharing it on social media as well as talking or writing about it. Our creative approach was founded on the following strategic principles:
Be local. Communicate at a community level. Wherever possible, use media that we can geotarget.
Be personal. Big Issue vendors are real people with names. We need to reconnect them with their communities.
Be shareable. Create an idea that will encourage people to spread the word to their friends, family and communities.
Be rewarding. If possible, find ways to reward people for engaging with the campaign.
Keep it simple. Don't ask people to do too much. Life's too busy!
Creative
30″ hero advert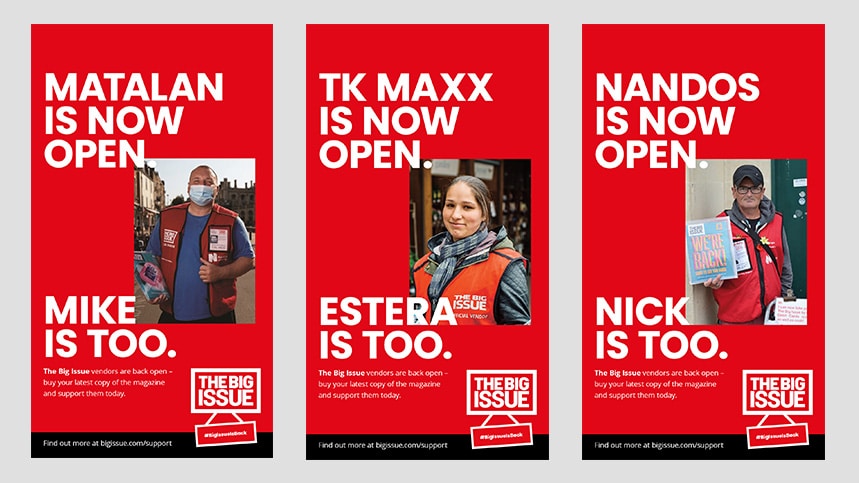 Instagram and Facebook organic storys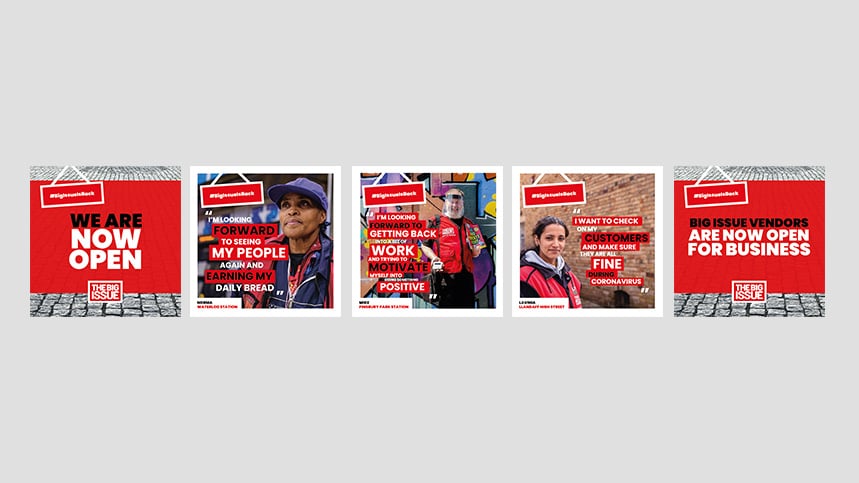 Social carousel advert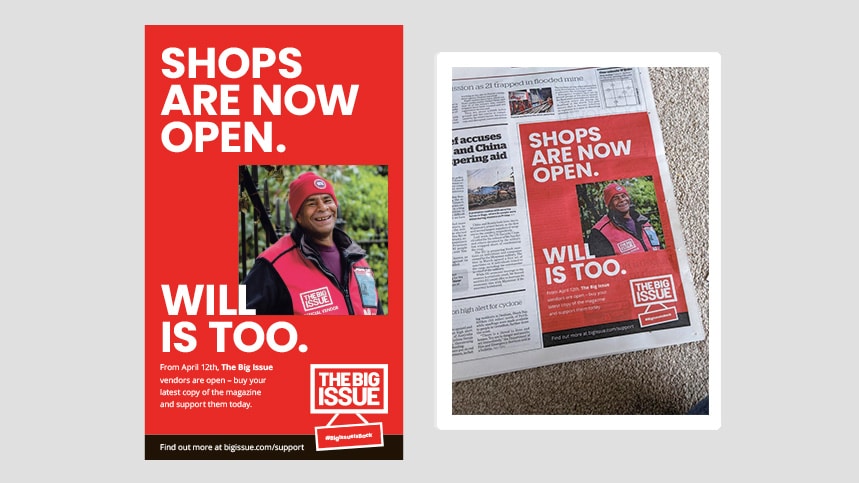 Newspaper print advert
Results
With challenging deadlines and a minimal production budget, We needed to move fast. In less than a week, a range of creative ideas was outlined and presented to the Big Issue team.  With the preferred campaign identified, we immediately went into production, using The Big Issue's own vendor gallery and information to create assets for national press insertions as well as locally targeted social media ads which featured individual vendors and their pitch  locations. To enable a smooth and effective deployment of the campaign across The Big Issue's social media channels, we also created a social calendar with simple ad copy templates and recommendations on which assets should be posted, when and on which platform.
Despite a two week turnaround from briefing to launch, #BigIssueisBack went live on April 12th 2021. The campaign marked not just the long-awaited reopening of the UK economy, but the beginning of The Big Issue's 30th anniversary celebrations.