Date posted
09 Aug 2022
Read Time
Over the last couple of weeks, several Big Tech companies released their Q2 2022 earnings reports. Whilst primarily for investors, us advertisers can also get a glimpse into how the platforms we fund through our work are performing. 
There were, of course, several unifying themes across these reports. The primary one being macroeconomic headwinds across the globe. As countries face increasing inflation, and with the prospect of recessions on the horizon (all coupled with the challenges of the past few years such Russia's war in Ukraine and COVID), an economic downturn spells trouble as some advertisers start to scale back their campaigns, resulting in platforms fighting for fewer and fewer ad dollars.
In this blog, I'll delve into the findings of these reports, and what we, as advertisers, can learn from some of them.
Alphabet
Despite slowing and missing expectations overall, Alphabet's earnings were not badly received by the market, with a bump in stock price after release.
Interestingly, YouTube revenues were behind expectations, up just 4.8% YoY, compared to Search revenues, which were ahead of expectations and up 13.5% YoY. Search continues to remain the backbone of Alphabet's revenue.
YouTube Shorts are a key part of YouTube's plan to own the short-form video market and attempt to see off the threat from TikTok. Whilst Google claims that they've over 1.5 billion monthly Shorts viewers, they have only just started testing ad formats on Shorts, which could explain why YouTube underperformed. 
Alongside this, advertisers who are beginning to tighten their belts may look to axe channels that are harder to measure and attribute revenue to such as YouTube (where we need to look at softer metrics such as Brand/Search Uplift, rather than raw numbers of leads driven or products sold).
A good showing from Search isn't too surprising, as a channel it can drive clearly attributable performance and be pinned to a Return On Investment in a much simpler fashion than many social media platforms – this makes it much better placed to endure harsh economic conditions. Whilst it can be argued this is a short-term view to performance marketing, it is certainly not a surprise.
Meta
Falling short of expectations, Meta reported its first ever yearly decline in revenue. Among social media platforms, Meta has the most mature ad platform, and one advertisers regularly look to for results when planning campaigns.
Back in 2021, the launch of iOS 14.5 shook up the platform by requiring users to opt-in to personalised ads across each app, resulting in drops in audience sizes, tracking gaps and overall worse results from ad spend.
With the additional threat from TikTok, the platform introduced short videos (named Reels) which are yet to be monetised at the same rate as feed or stories, but are being pushed by the platform nonetheless.
There was talk about potential revenue from the Metaverse in the future, with CEO Mark Zuckerberg saying "I feel even more strongly now that developing these platforms will unlock hundreds of billions of dollars, if not trillions, over time". How exactly this is realised and ultimately monetised will be seen in the coming years – we're still a long way from running successful Metaverse ad campaigns.
We were also given some insight into average ad cost on the platform right now:
"In the second quarter of 2022, ad impressions delivered across our Family of Apps increased by 15% year-over-year and the average price per ad decreased by 14% year-over-year."
Whilst this is an average (and will certainly depend on an advertiser's campaigns, placement and vertical), this fall in average price could mean a slight decrease in Cost Per Acquisition (CPA) for activity across the platform. If demand weakens and some advertisers start cutting Meta from their plans, this could represent an opportunity for those who stick with the platform and make clever use of its targeting and ad formats at a lower cost than before.
Snap
Snap has had a difficult time in the past week or so being the first social media company to announce their earnings, which showed sales slowing, and led to a subsequent fall in share price.
As with Meta, iOS 14.5 brought significant challenges to the platform, but user growth beat forecast. The challenge is monetisation and, of course, keeping those users on the platform long enough to realise a return.
With the recently launched SnapChat+* subscription service to bolster revenue, they also need to appeal to advertisers and get them onboard with the platform and buying ads, instead of looking towards alternative platforms. We are yet to see how they will convince us that they're the future and why, as advertisers, we need to be on the platform buying ads, but it is worth closely monitoring.
Twitter
Twitter reported a slight decline in revenue versus expectation but an increase in monetisable users. The platform itself is mired in uncertainty around the very public Elon Musk acquisition as they try to legally enforce his bid to buy the company.
Despite launching their ad platform just a few years after Facebook (now Meta), many advertisers struggled with driving performance through it well before this deal was made, and many don't see Twitter as a "must-have" on their media plan. The public talk of Twitter bots and the exact percentage they make up of total users (with Musk claiming this is much higher than the <5% quoted officially by the Company) is no doubt further harming advertiser confidence. It's hard to see anything changing whilst their future is uncertain, especially if the platform is distracted by its upcoming legal battle.
Apple
Whilst ad revenue makes up a tiny part of Apple's business (through platforms such as Apple Search Ads and display ads), they hold a huge sway over the industry as a whole through iOS and macOS devices.
Whilst iOS 14.5 was released mid-2021, the impact of letting users opt out of third-party tracking (numbers vary, but this could be up to +75% of users) is still being felt, as advertisers find it harder to measure the impact of their iOS campaigns across social media platforms (although it is worth remembering the audience itself has not gone anywhere – this is more of an attribution problem). As mentioned, this change alone had a massive impact on other big tech platforms – with Meta (perhaps unsuccessfully as the release still went ahead) positioning this as Apple harming small businesses who rely on the platform to reach their customers.
This isn't likely to be the only way Apple shakes up the marketing industry, with rumours just last week of Apple building their own DSP (demand-side platform), which could reshape how advertisers reach users on iOS and macOS.
TikTok
Privately owned by ByteDance, the fast-growing social media platform also loomed large in these earnings reports, with estimates, such as that shown in the below chart, suggesting a clear threat to the established players in the social media space, if left unchecked. To that end, both YouTube Shorts and Instagram Reels are a direct response to the platform, as they all vie to become the go-to for short form video content.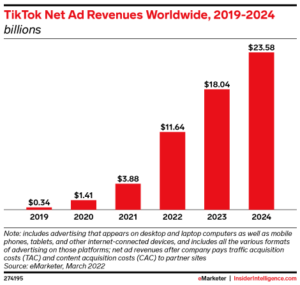 As mentioned, it's likely that in an effort to keep pace with TikTok, both Alphabet and Meta have harmed their short-term revenue by promoting their TikTok alternatives above their proven (and better monetised) products such as In-Stream or Feed Ads.
How successful this challenge is remains to be seen with users protesting their dislike for the changes – take the "Make Instagram Instagram Again" campaign, for example, as users rallying against the platform "trying to be TikTok" are being backed by Kim Kardashian and Kylie Jenner.
TikTok faces its own challenges of course, whilst striking a chord with users in the UK, several MPs have been raising concerns over the perceived national security risks posed by the Chinese company, with the UK parliament only last week closing their newly launched official account.
The key takeaways from the Big Tech earnings reports
So, what can we, as advertisers, learn from these earnings reports? There are a few core takeaways from the above for anyone running ad campaigns on these platforms:
Google Search was a highlight in a fairly weak showing across the board, and as a product seems to have the most market confidence.

Advertisers are perhaps seeing search as a "safe bet" in the current climate, and we would expect to see Search continue to outperform Social Media platforms if recessions start to bite.

If you don't have your Search strategy nailed and firing on all cylinders, now is the time to sort it out.
With social media companies struggling to hit revenue expectations, they are looking

for new and innovative ways to attract advertisers:

With Meta seeing a decrease in ad price and Snap looking to rebound, keep a look out for how these platforms are positioning themselves to appeal to us advertisers through incentives or through new product releases.


Short-

form video is the social media battleground:

TikTok is currently leading the pack and is where advertisers should be experimenting, whilst Reels and Shorts ad products are ones to watch.

Once widely available, it should be easier to run supplementary Shorts/Reels activity than launch across an entirely new channel.

Keep in mind short-form video formats when building any new creative, as we're likely to see monetisation ramp up.
Changes from Apple (iOS) and Alphabet (Android) can have an oversized impact on the fortune of other platforms:

Given the differences in platform (with Apple making their money primarily from hardware and Alphabet from ads), we may see further moves from Apple to limit how advertisers can reach their users through social media platforms and apps (under the banner of protecting user privacy).

This could tie with rumours of Apple building their own DSP, and reshape how advertisers reach iOS and macOS users.
At RocketMill, we work closely with our partners to ensure that we get the best possible use from their platforms for our clients. If you have any questions, or need support in defining, developing or running your Media campaigns, don't hesitate to get in touch with the team.