In a pre-Coronavirus market, businesses faced immediate and ever-changing demands when marketing to consumers.
Marketing analytics data, via platforms such as Google Analytics, was fundamental in making informed marketing decisions to tackle these daily demands.
However, despite the obvious importance of this data, many businesses would put off investing in their marketing analytics infrastructure.
The priority was driving immediate efficiency across marketing spend, whilst delivering the right message, to the right consumer, at the right time.
Long term measurement infrastructure was not the priority.
The here and now
The Coronavirus outbreak has changed how businesses advertise to consumers.
Many brands are simply not able to advertise due to unprecedented changes in supply, demand and cashflow.
But all businesses need to be asking the question 'what can my business do now to advertise effectively to consumers in a post Coronavirus market?'
Investing in your marketing analytics infrastructure must sit near the top of your answers to this question.
And here's why.
Investing in your marketing analytics infrastructure will provide a robust foundation of measurement, that will give your business many more marketing levers to pull in a post Coronavirus market.
Here are three areas to focus on, in the here and now, to help you develop a strong marketing analytics infrastructure.
1. Measurement planning
Marketing analytics data is the one common thread that links all marketing efforts together.
With such a wealth of data available it's important to identify the metrics that matter and have complete clarity over how your KPIs are measured, segmented & ladder up to the overall business vision.
Start by creating a 'measurement plan on a page' to achieve complete clarity and context on the metrics that matter.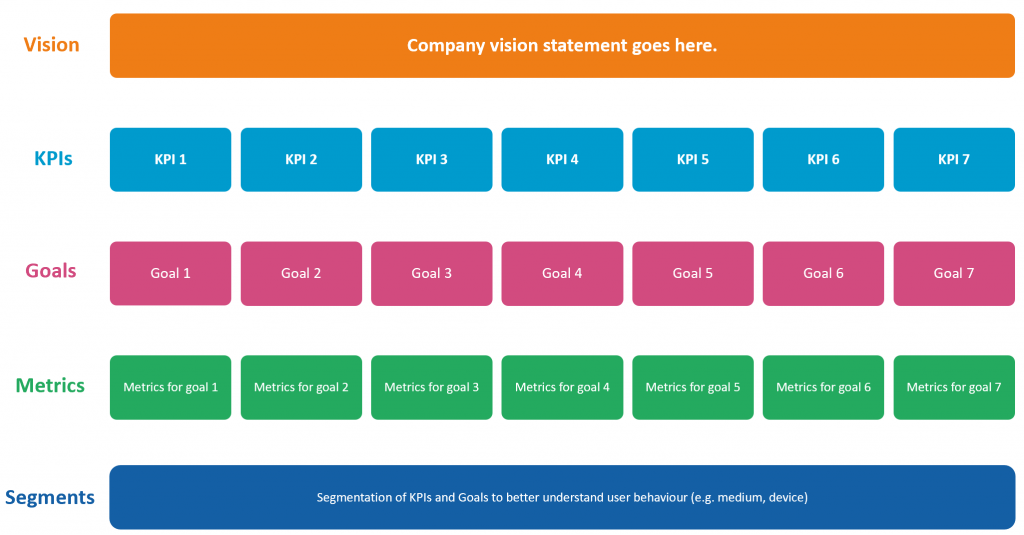 2. Measurement audit and implementation
With a measurement plan in place, ensure marketing analytics platforms such as Google Analytics and Google Tag Manager are configured to provide robust, relevant and accurate data.
This can be achieved by:
a. Running a thorough audit of your Google Analytics configuration. When was the last time your Google Analytics data was audited? Is current data accurate and relevant? Is there measurement from the measurement plan that you are not tracking? An audit is critical in providing answers to these questions, ensuring you have accurate and futureproof marketing analytics data.
b. Migrate your measurement to Google Tag Manager. This will provide a platform to evolve measurement more effectively in a post Coronavirus market. Developing robust measurement principles now will provide numerous benefits in the future.
c. For those already using Google Tag Manager, give your setup a spring clean. Google Tag Manager setups can easily become unwieldy and difficult to manage, increasing the risk of your tracking breaking unexpectedly. Avoid this happening by investing time in making your setup lean and efficient by removing redundant tags, triggers and variables, consolidating tracking, and adopting consistent naming conventions.
3. BI dashboarding
Bring your measurement plan to life by creating a dashboard that showcases all the metrics that matter to key stakeholders.
This will create a single source of truth for measuring performance, underpinned by a measurement plan, accurate data and a robust marketing analytics infrastructure.
Your dashboard will be a critical resource in a post Coronavirus market.
It will provide you relevant and actionable data on how your marketing is performing, and how your consumers are behaving. Having easy access to this data will enable you to react quickly, helping your brand to be seen in a busy and highly competitive landscape.
The future
Data already plays a key role in our lives as marketers, and the role of marketing analytics data will become critical in a post Coronavirus market.
Demand in the advertising space will inevitably surge, which will create a highly competitive landscape that all businesses will be striving to get a share of.
It may not be enough to use your current marketing analytics data to enable effective and efficient advertising.
Businesses that will succeed in a post Coronavirus market tomorrow will be the ones that focus on establishing robust marketing analytics foundations today.